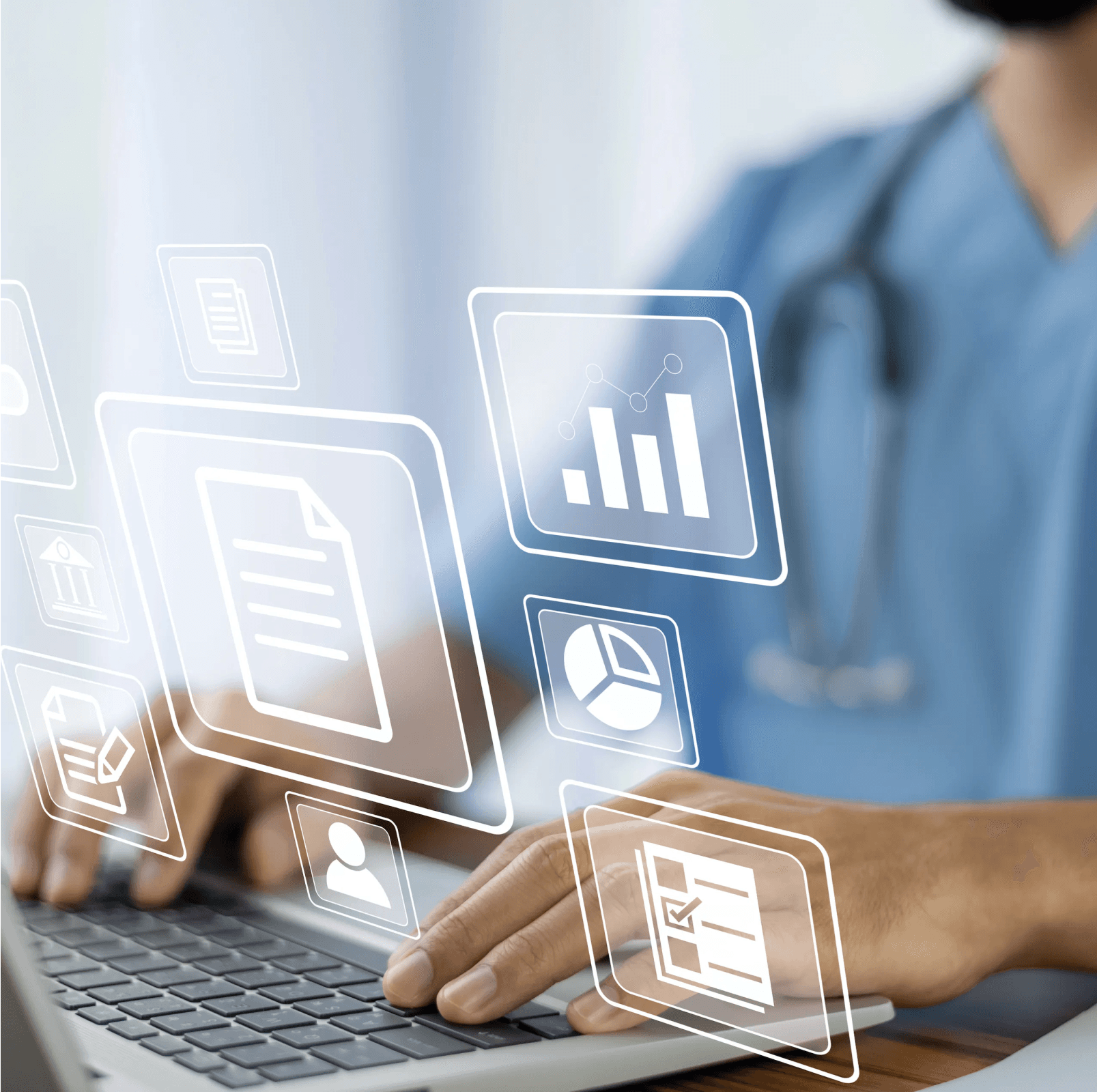 On the way to the hospital of the future: Your patient portal according to KHZG
The individual software solution, perfectly tailored to you. Decide now to take the right step towards digitizing your hospital and get to know our patient portal.
Schedule a demo
Our patient portal meets all KHZG must-have criteria under funding statute §19.2 KHSFV for Digital Admission and Treatment Management.
The Hospital Futures Act (KHZG) is a major legislative initiative in Germany aimed at improving the digital infrastructure and quality of patient care in hospitals. It promotes the adoption of modern technologies and supports hospitals in addressing current and future healthcare challenges. The Qunosuite patient portal fulfills all the must-have criteria of funding facts 2a and 2b for digital admission and treatment management and thus represents an eligible solution for your hospital of the future.
With nearly 10 years of experience in the healthcare industry, we stand for quality, efficiency, trust and most importantly patient satisfaction. Our highly motivated team from over 25 different nations brings the attitude and expertise it takes now to make hospitals digital.
Creating a user-friendly patient portal that your staff and patients love takes one thing above all: passion. From conception and project management to live operation, but especially for intensive post-launch support, we are fully at your disposal. With us, you will achieve a smooth transition to your KHZG-eligible patient portal within the given deadlines.
Invest in real added value - your benefits at a glance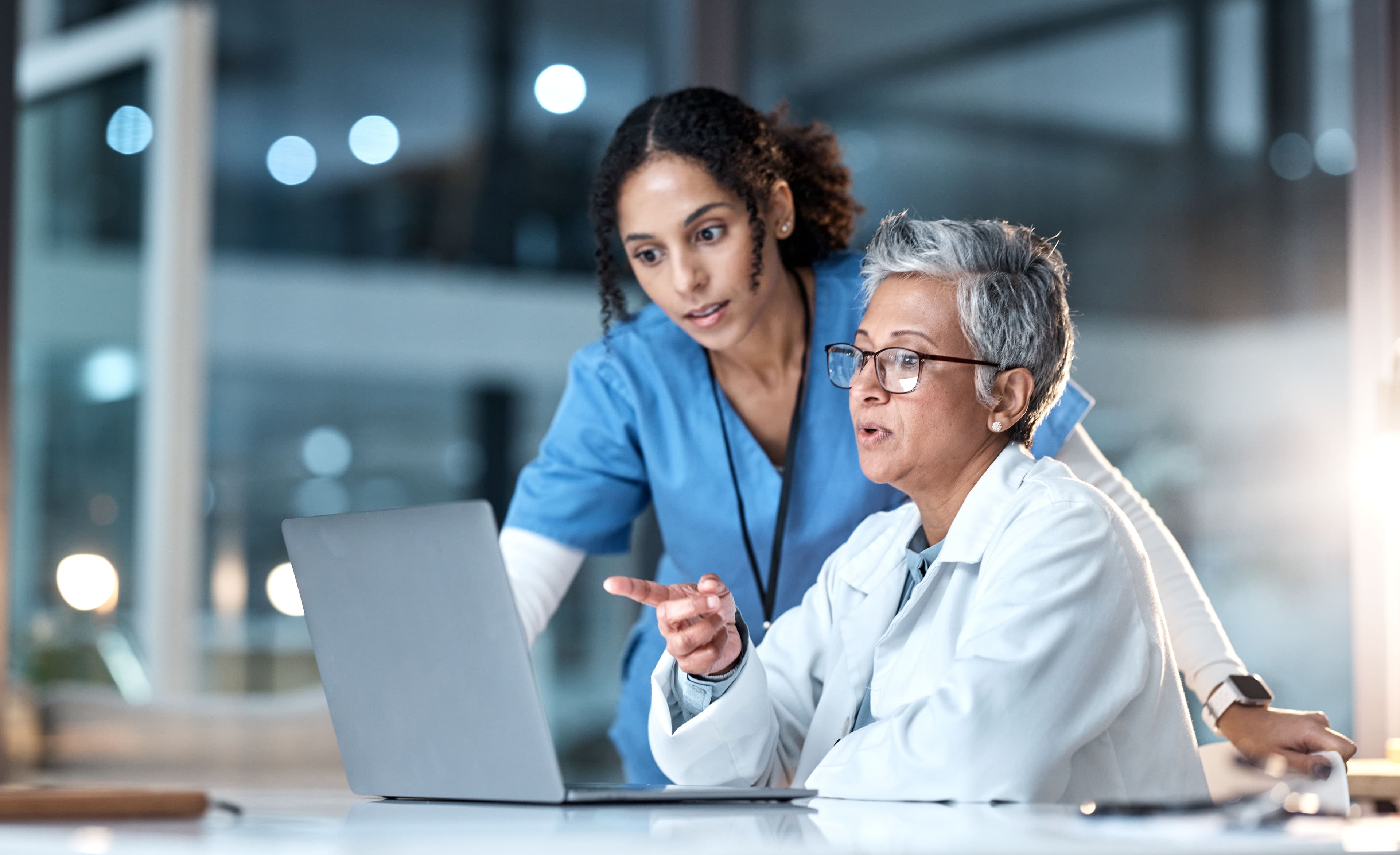 Efficient communication
Fast and smooth communication is critical to optimizing patient care. Seamless exchange of information between medical staff, patients and other stakeholders allows for faster diagnoses and coordination of treatment plans, ultimately improving healthcare.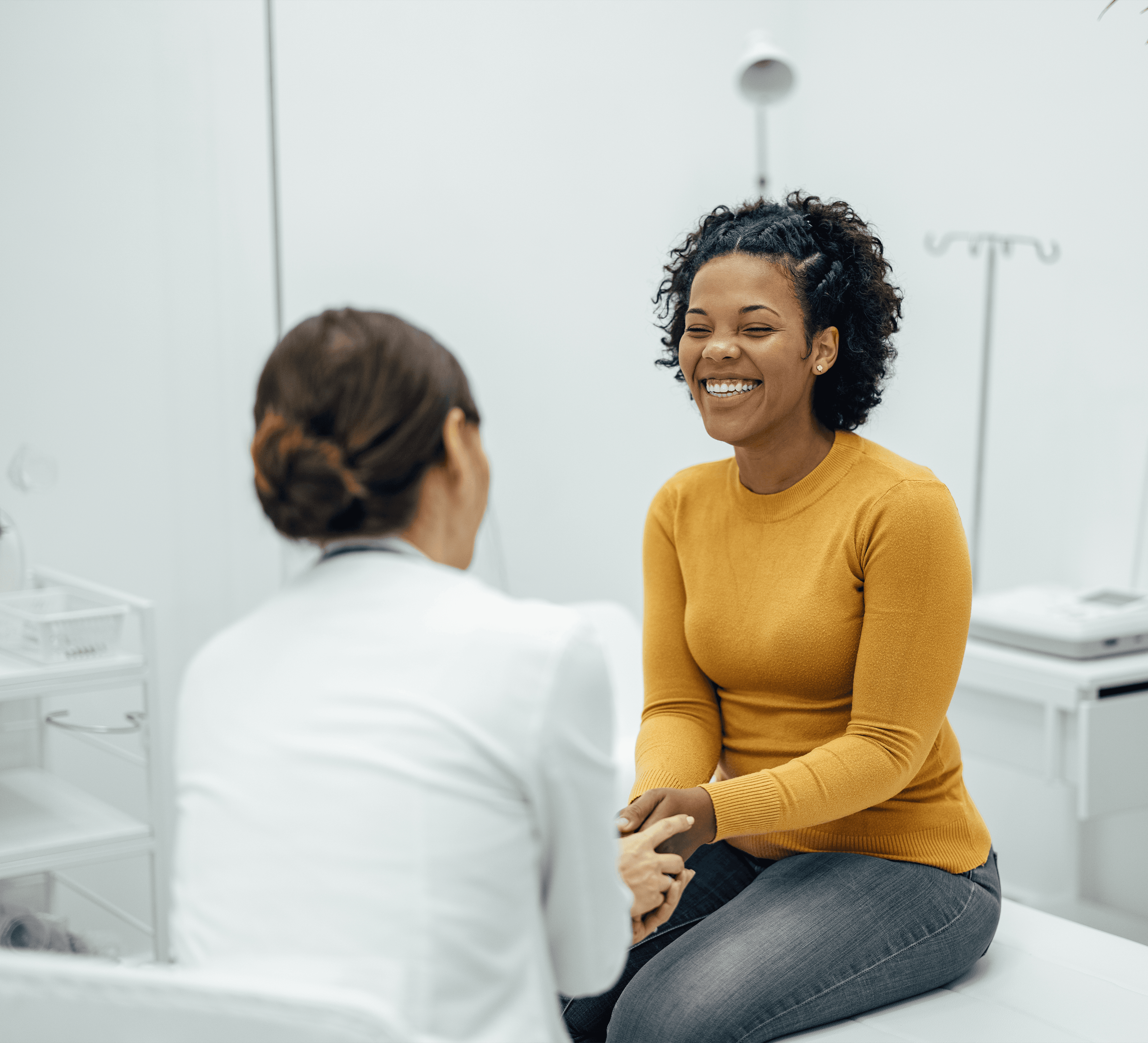 Reduced personnel expenses
The introduction of efficient information technologies and digital processes in the healthcare industry leads to reduced personnel expenses in administrative tasks. This allows professionals to spend more time on direct patient care and improving medical quality.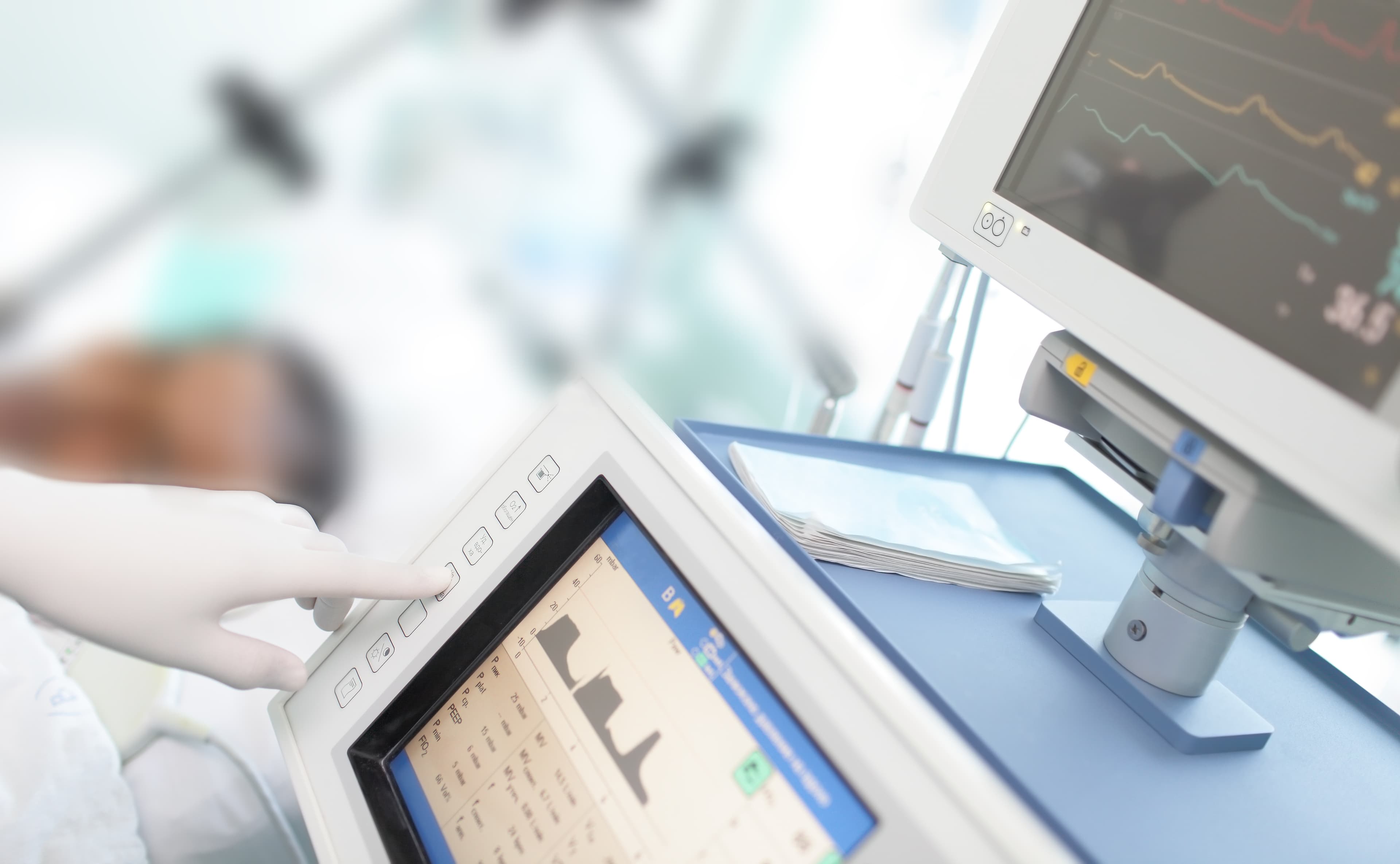 Financial savings potential
Implementing cost-efficient processes and technologies in the healthcare industry opens up significant potential for financial savings. By reducing administrative costs and improving resource utilization, healthcare facilities can free up funds that can be used to improve patient care and purchase state-of-the-art medical equipment.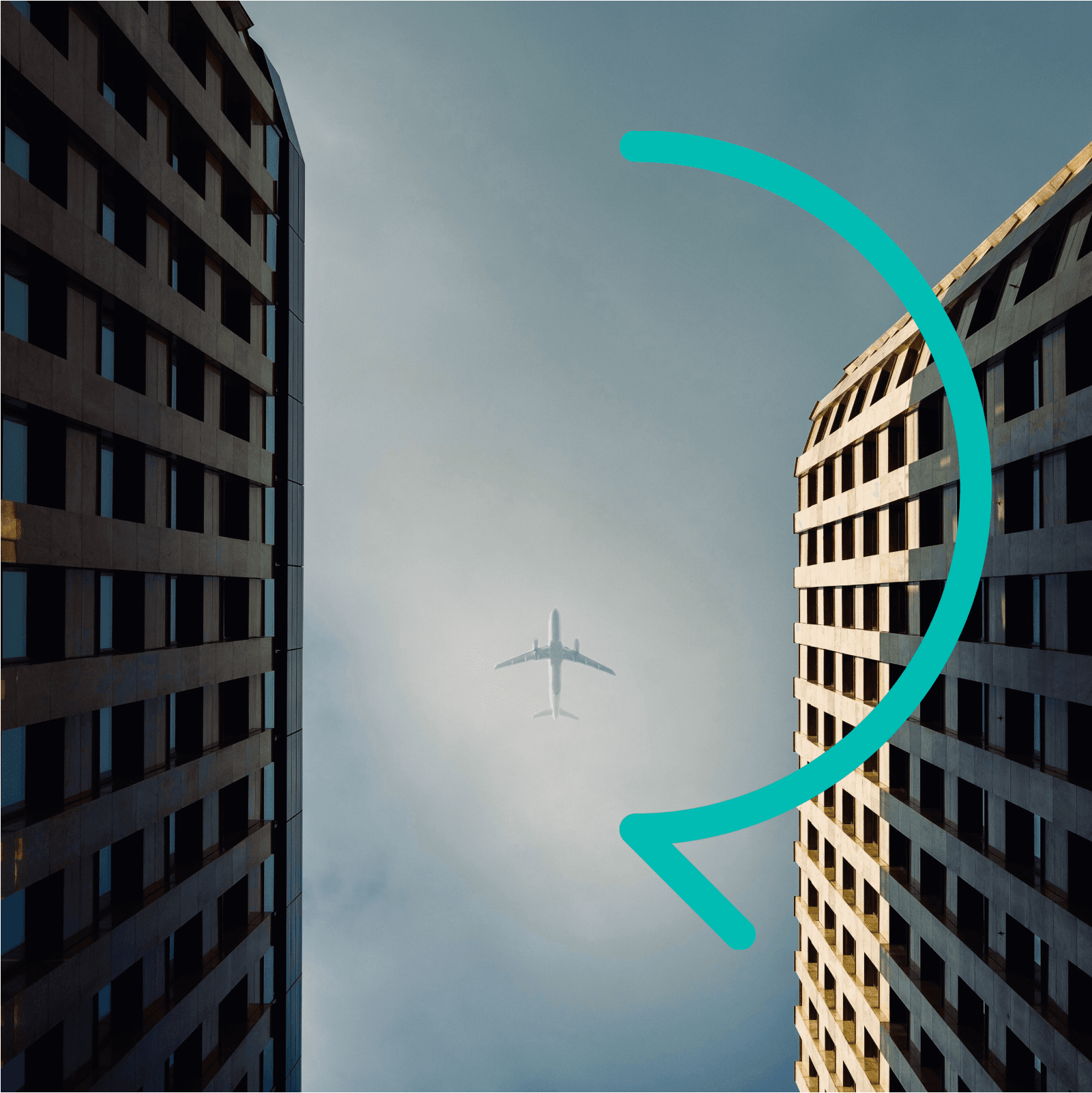 Start your journey with us now
Contact us now to learn more about how our solution can help your clinic on the road to digitisation and get to know our patient portal in more detail.
More information and prices
The most important functions for digital recording management at a glance
Digital admission management aims to relieve patients even before their hospital stay by allowing them to record their data online and make decisions in their familiar environment. At the same time, the use of digital services is also intended to relieve the burden on staff in administration and inpatient admissions and to make communication with previous service providers more efficient.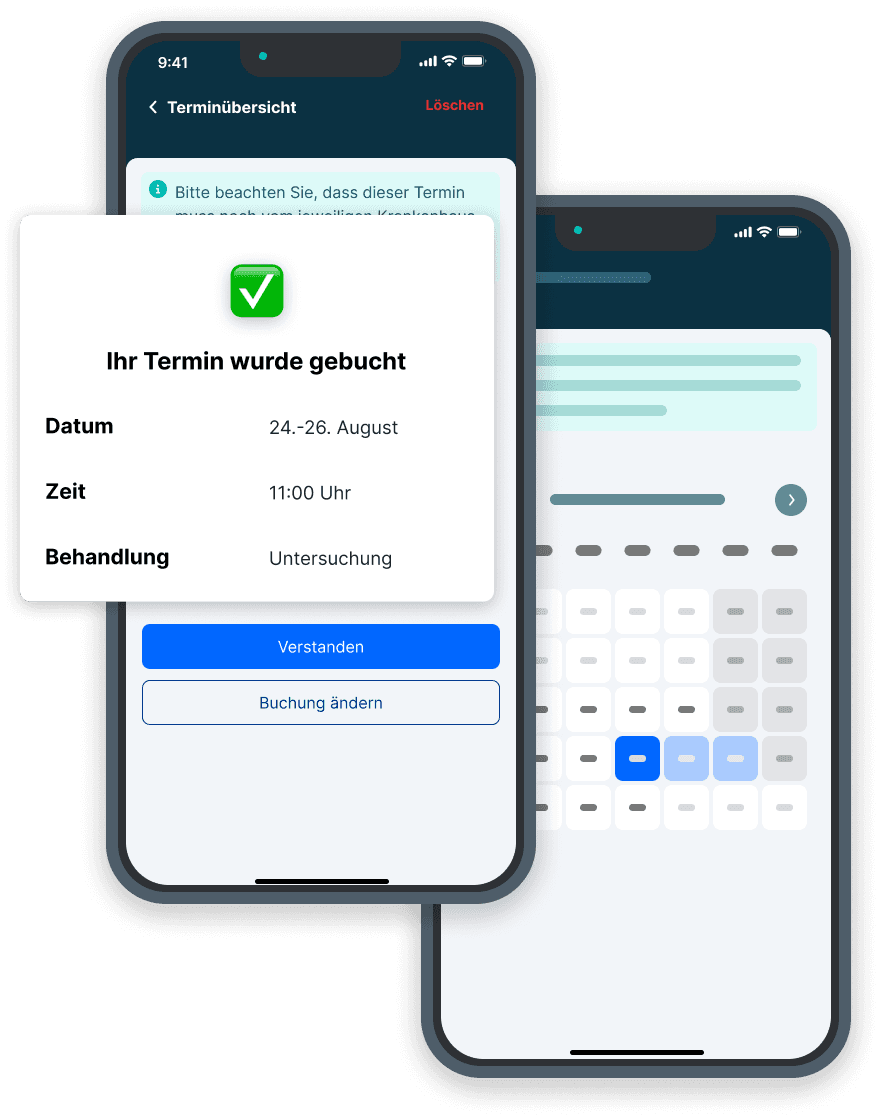 Online appointment booking
Patients can make appointments online for outpatient care services and request and coordinate appointments online for partial and full inpatient treatment. This includes services provided by specialist care (ASV) in the hospital, if these are offered by the hospital.
The option of requesting and booking appointments online significantly reduces the communication effort between patients and staff and offers a central solution for finding appointments.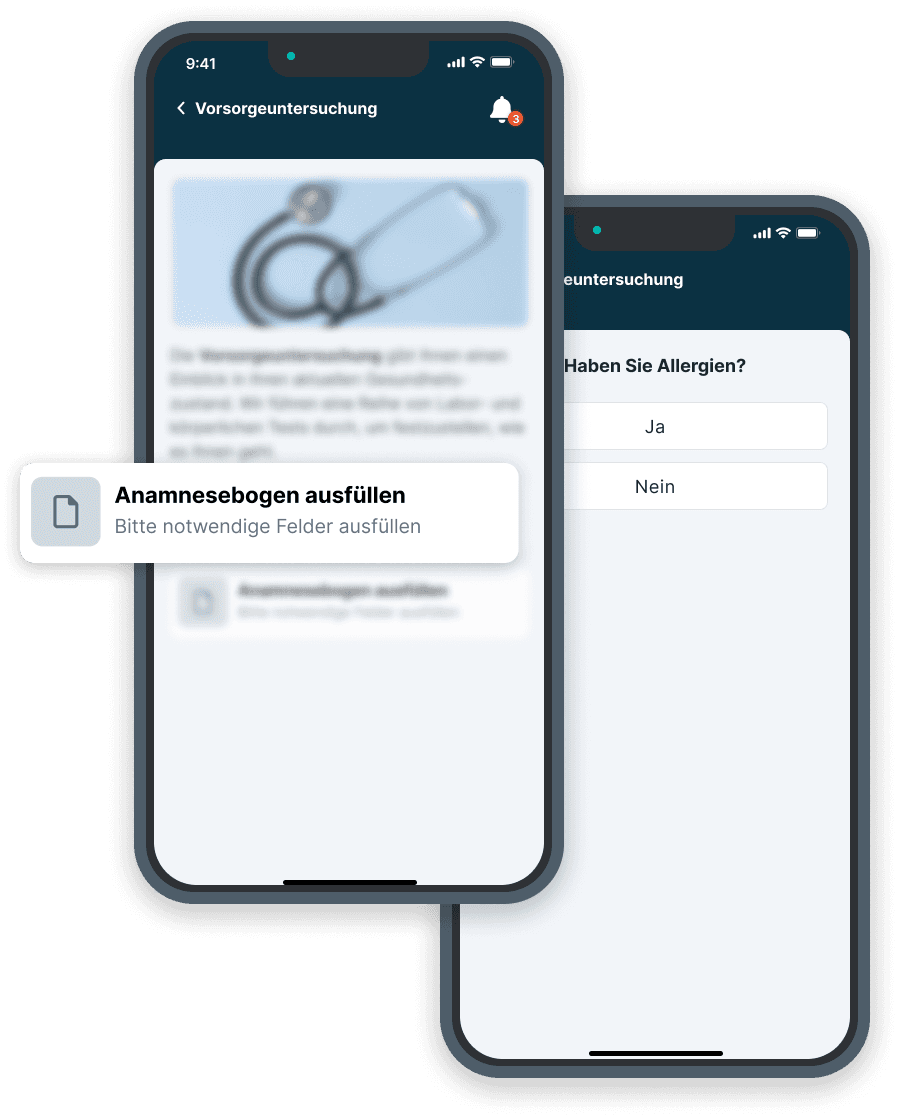 Digital anamnesis
Patients can take a medical history digitally from home. This relieves patients even before their stay in the hospital. In addition, admission management staff can also take a medical history digitally in the clinic.
By digitizing the medical history forms, you not only reduce your personnel expenses, but also achieve enormous financial savings potential through reduced personnel resources and paperless queries.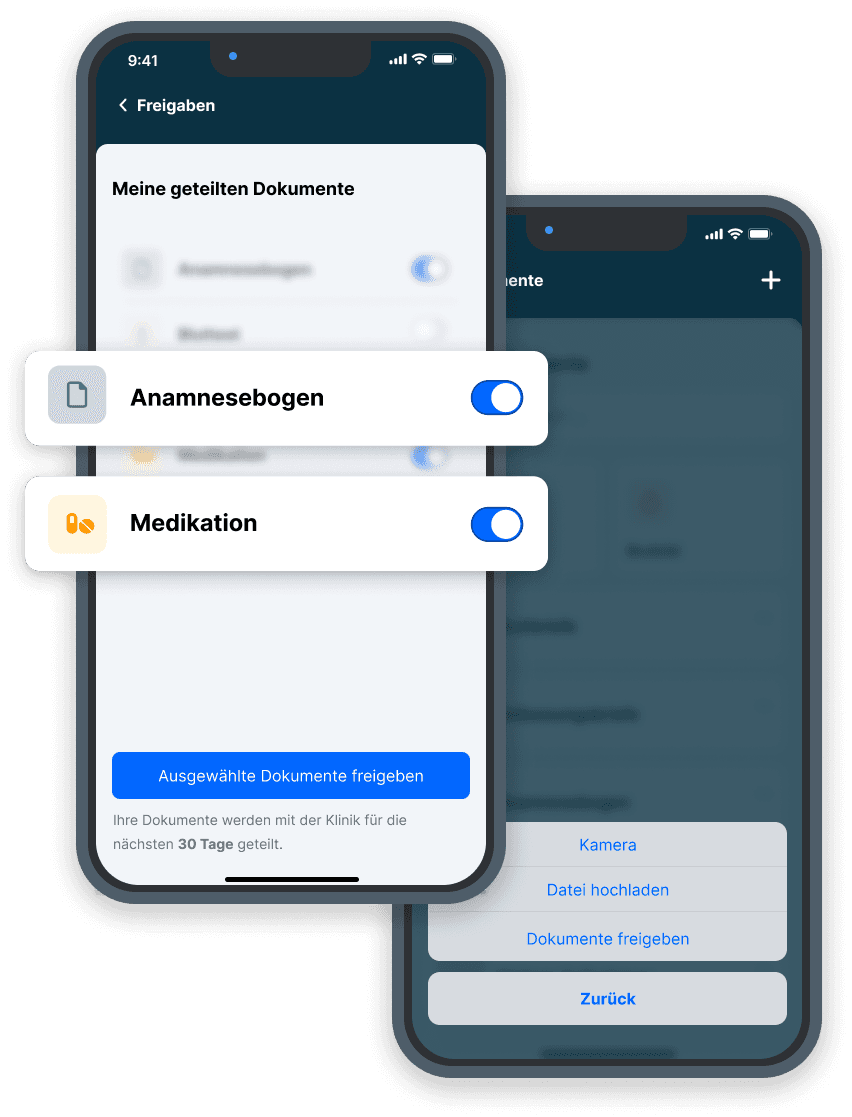 Treatment records
Patients can upload relevant documents and data online in advance, or allow access to these data by the practitioner within the framework of a temporary authorization (consent) granted digitally by the patient.
Fast and uncomplicated access to treatment documents is a basic prerequisite for smooth day-to-day clinical processes. No waiting, no dependencies, no loss of time for your employees.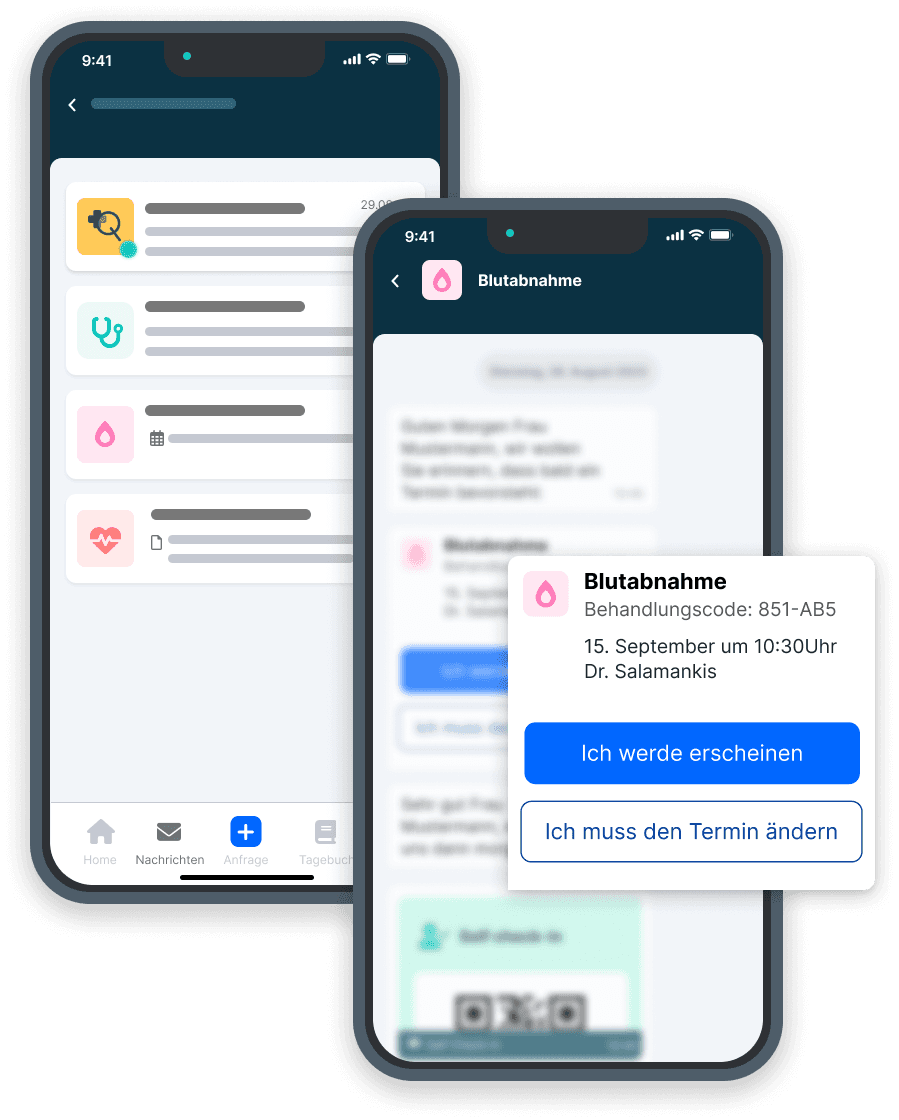 Communication in the portal
Admissions management staff can send messages to patients.
This includes, but is not limited to, individual messages, appointment reminders, prompts to complete the medical history form, and much more to ensure efficient communication in one central location.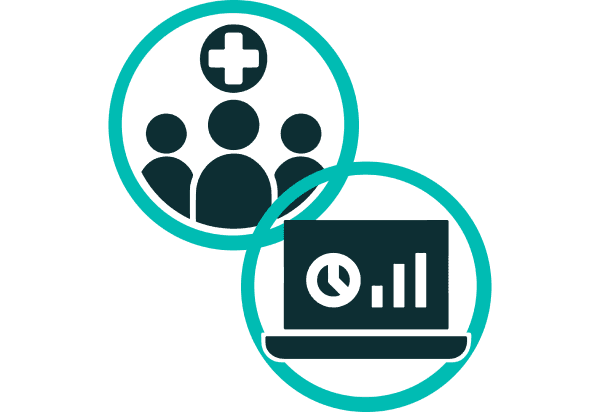 Exchange and interfaces
Interfaces to existing HIS or ERP systems are fundamental, so that the digitally recorded patient data is also automatically and interoperably available for downstream organizational processes and resource planning.
The interoperability of the software enables you to work with up-to-date and reliable data in order to achieve an even better quality of care for your patients.
An overview of selected core functions of digital treatment management.
Digital treatment management aims to better accompany and involve patients during their inpatient stay, which improves patient safety and therapy adherence. At the same time, it reduces the workload of staff on the ward.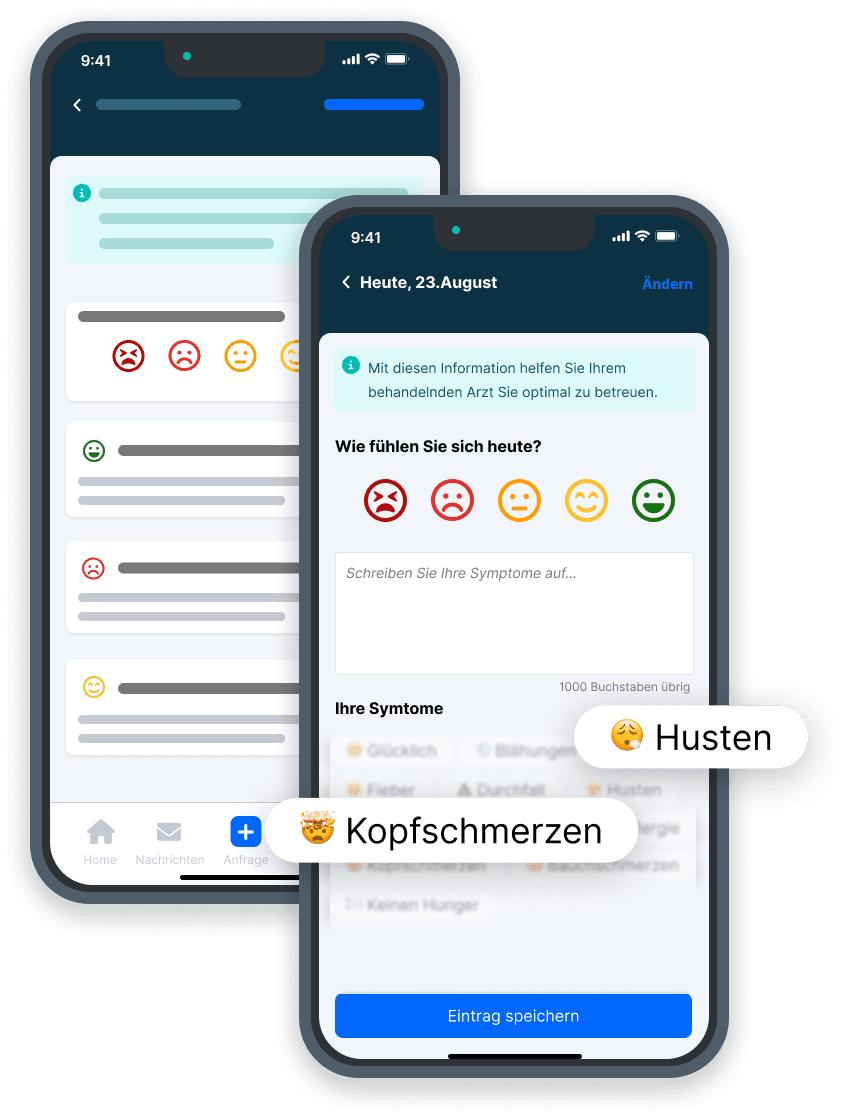 Digital treatment diary
Patients can keep digital treatment diaries on their own devices.
The entries are entered by the patient with just a few clicks, automatically stored in the profile and made available to the practitioner at any time, thus increasing the quality of the patient's individual treatment and eliminating time-consuming manual queries.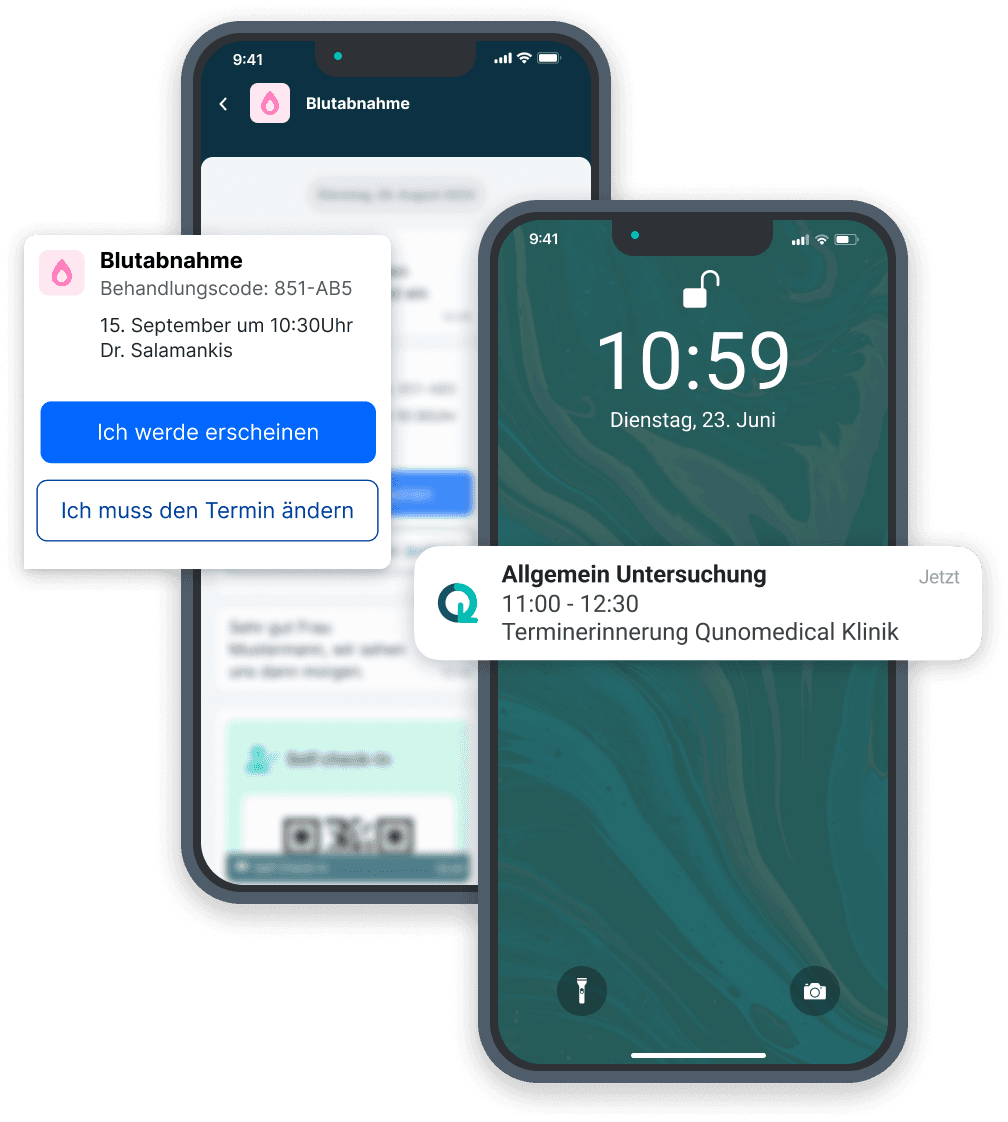 Automatic appointment reminders
Patients can receive automatic reminders of examination appointments on their terminal device during their stay.
Patients receive a push notification on their mobile device and also receive an appointment reminder in the news section of their patient portal, which has been shown to reduce missed appointments.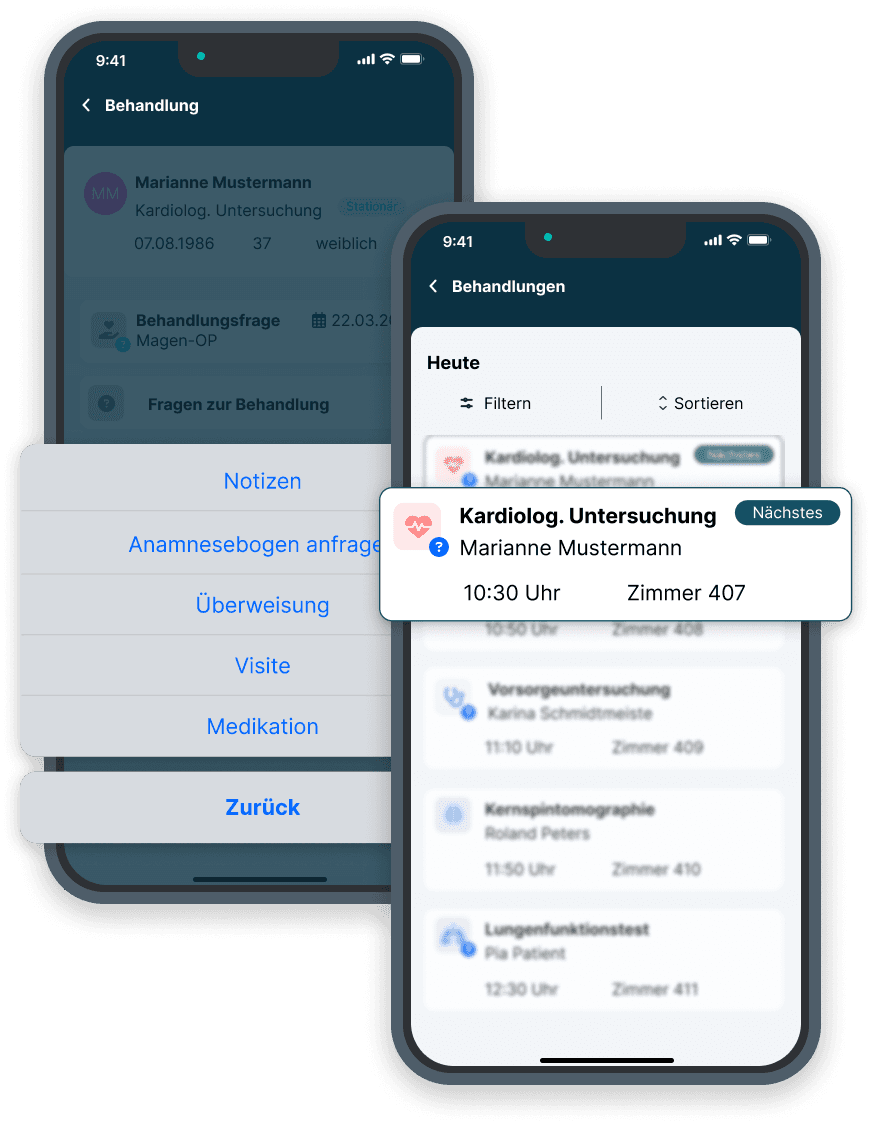 Digital rounds
Employees can access relevant information more quickly, especially in the HIS/KAS and patient data management system, through mobile and digital rounds.
Direct access to all relevant patient data enables efficient ward rounds and saves time.
Digital transmission of remittance slips
Upstream service providers can send referral slips to the clinic online in advance.
This results in an accelerated exchange of information for all parties involved. The uploaded documents are automatically stored in the patient's profile and can be retrieved at any time, which significantly reduces the communication and processing effort.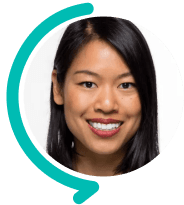 "Digitalisation has become a defining element in the healthcare sector and the key to optimising the patient journey. With the Qunosuite patient portal, patients can be better informed and cared for, and clinics can be managed more efficiently and with fewer resources - leaving more time for what is really important: the patients."
Dr. Sophie Chung
CEO und Gründerin von Qunomedical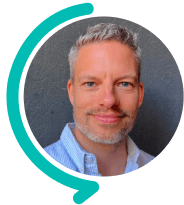 "We strive for excellence in everything we do - this has enabled us to build strong relationships with our partners and earn the trust of thousands of patients and doctors worldwide. We believe we can continue to drive success and make a positive impact on the healthcare industry."
Jochen Michaelis
Chief Commercial Officer, Qunosuite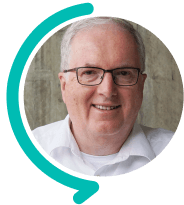 "Patients are increasingly active participants in healthcare, especially through the use of digital offerings to support information retrieval, communication and document sharing. Additional services such as digital medical history and automatic appointment reminders can reduce the burden on patients and staff enormously."
Prof. Dr. med. Rüdiger Heicappel
Medizinischer Direktor
Frequently asked questions
What distinguishes the Qunosuite patient portal from other providers?
With our expertise in the HealthTec industry and intrinsic motivation to drive the digitization of the healthcare industry, combined with the experience of external, independent hospital IT consultants, we offer you the best possible solution for your patient portal - a portal your staff:ers and patients:ers will love.
Are all mandatory criteria according to KHZG fulfilled?
The patient portal fully meets all of the mandatory criteria set out in KHZG funding regulations 2a and 2b.
How do I get access to the patient portal?
Patients have various options for gaining access to the portal. For example, an invitation can be triggered from the HIS and sent by email. Alternatively, patients can access the login area of the patient portal via the clinic website. Registration and login are verified using two-factor authentication.
What does the software cost?
You decide what is necessary for you - depending on the customer's needs, we offer various software packages in different categories. Here you can book a 15-minute consultation to get more details about pricing.
How is scheduling done in the patient portal?
An appointment request or booking is done via the patient portal and can be implemented either fully integrated with the inventory calendar or without deep integration - you decide.